Carillon at Belleview Station
At Ascent Senior Living Communities, we are more than Colorado-based. We are 100% Colorado-present. Every community we operate and manage is in the state of Colorado. In fact, Ascent's home office is just a few miles away from Carillon at Belleview Station…so when we say we are here when you need us, we mean it. We maintain a strong relationship with state and local health departments and have built other local partnerships that benefit our residents. One of our founders has nearly two decades of experience opening and operating senior living communities in the Denver area, and we now look forward to serving many adult children of those seniors we have served over the years. We have deep roots in Colorado, and operating first-class senior living communities in Colorado is our sole focus.
Our founders' 40 years of combined professional backgrounds provide the backbone of our operation. We have celebrated many successes with our residents, their families and our associates. We know success, and we know how to work through challenges as we continue to build and improve every day.
We are invested in creating a first-class experience for residents and their families, and to hire and retain the best associates in the business, and we believe we can do it exceptionally well. the Carillon at Belleview Station in Denver, Colorado, is an example of how we at Ascent Living Communities are driven to offer you more flexibility, more choices and more ways to get the maximum enjoyment from life—elevating senior living.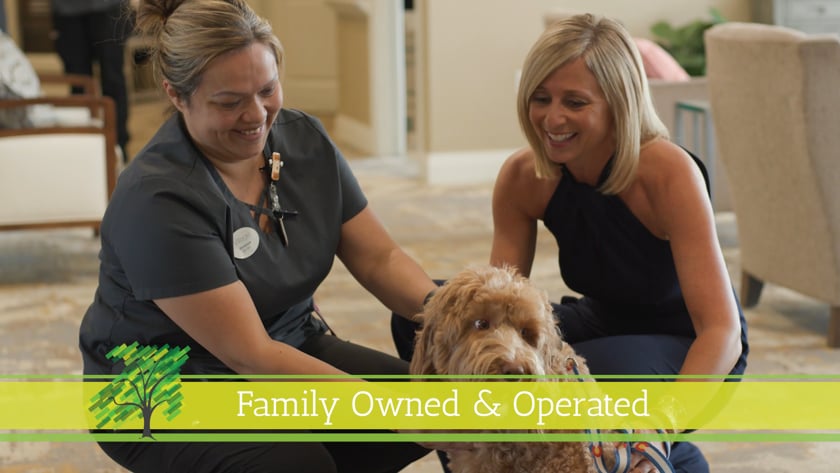 Safety of Residents and Families
With new local Colorado-based management, the Carillon at Belleview Station can provide greater oversight over safety standards within our senior care community, including virus protection, more resident-specific programming, advanced technology and increased staffing.
We want everyone—our residents, their families, our prospective residents and visitors from outside the community—to feel safe and at ease.
Just a few aspects of our enhanced safety regimen:
An extraordinary senior living community such as the Carillon at Belleview calls for a special team of professionals who are passionate about what they do, and how they do it. Our group truly embodies our promise to elevate senior living in every way we can.
Shannon Arwood Dionese, ALA
Shannon was born in Seattle, Washington and spent her childhood, equally, in Seattle and Montana. She attended the University of Montana and received a degree in Psychology in 1996. After graduation, her goal was to go in to law enforcement. To pay the bills, she took a job working at an Embassy Suites and embarked on a 23 year long journey in hospitality that allowed her to live in quite a few states. She had often thought that she would enjoy working in Senior Living and decided to make that leap 3 years ago and became an Executive Director. The parallels between hospitality and Senior Living made the transition incredibly easy and she has never looked back. Her management philosophy of "finding creative ways to say yes," leading with integrity, and not over-promising and under-delivering has lead to a very successful career. A big pet peeve is when someone says "I'll look into that," and then there is zero follow through. Accountability and trust is key and she is looking forward to lending her talents to Carillon and making this a wonderful home for each resident. When she is not working, she enjoys spending time with her family and her four dogs.
Adrienne Evenson
Adrienne grew up in a small town outside of Pittsburgh and has been a resident of Colorado since 1998. "My father and I volunteered at local nursing homes when I was 11 years old – this has had a profound influence on my passion to work with seniors." Studying dietetics in college, Adrienne supported a local assisted living by creating specialized dietary menus for the residents and then had a wonderful opportunity to open a large senior community in southern Denver in 2006. With 15 plus years of experience in senior living, Adrienne continues to be inspired by the love and insight of her residents. "Some of my most genuine interactions and inspirational moments in life have been with seniors." When she is not at the community, Adrienne enjoys doing anything outdoors, healthy cooking, and spending time with her 15-year old son.
Brian Ketteler
Brian was born and raised in a small town in northeast Nebraska, attending college at Wayne State and graduated with a BS in Exercise Science. Having moved to Colorado in 2002 where he completed my internship at the Colorado Athletic Club, and then spent seven years there as a personal trainer. Brian initially got into the senior living industry in 2007 working as a Wellness Program Coordinator for Rehab Care, which led to a Resident Programming position in 2014. "I have been working in Resident programming and events for 7 years now and I truly love the interaction with the residents." Brian enjoys the hospitality component involved in senior living and especially loves the interaction that he has every day with the residents. "What I love most about my job is seeing the big smiles after a successful program." Brian's two daughters keep him busy on the home front, while he enjoys getting outdoors, golfing and running when he has free time.
Chef Nicole Gotzinger
Nicole Gotzinger is the Culinary Director at The Carillon at Belleview Station. Chef Nicole is a native-Coloradan and grew up in Littleton, CO. She comes with over 10 years of experience in Health Care and Senior Living; bringing memories and experience of fine dining to her residents and finding it to be her true passion. Chef Nicole graduated with a Culinary Degree through the Rocky Mountain Chefs of Colorado Apprenticeship program in 2018 and became certified through the ACF with her CC title. Currently she is in pursuit of mentoring the apprenticeship program, at The Carillon at Belleview for future young culinarians. Outside of culinary, Nicole enjoys the great outdoors, hiking, boating, traveling, spending time with her family, friends and her little-man, Church (aka puppy). She truly believes "you can be anywhere when your life begins."
Wilson Gonzalez
Wilson Gonzalez was born and raised in Southern California and has worked in senior health care for 13 years. "I fell in love with working for seniors at Holly Creek Retirement Home and ever since then have had the passion and love for cooking elevated meals for seniors." Gonzalez graduated from Rocky Mountain Chefs of Colorado Apprenticeship program in 2019 and became certified CC from ACF & CC. Outside of culinary Gonzalez enjoys going to the movies at the theater, skateboarding, going to the park with his kids, traveling to California to the beach and enjoying all the moments with his 4 children.
Craig Sparkman
Craig was born and raised in Baltimore where he attended the University of Maryland. As part of an operations team, he moved to Colorado in 1997 to manage a customer service call center. Craig has a degree in business and a master's in organizational management. After 22 years in operations/customer service he took some time away from the workforce to care for his autistic son, Jackson. During this time Craig became a CNA and spent the first year of Covid on the front lines in skilled nursing. This is where he developed a passion for senior living. Craig has worked in skilled and assisted living over the last three years focused on enriching the lives or residents. Away from work and school Craig and Jax are a team and can often be found listening to music, chasing bunny rabbits and rainbows, building trains or plotting an invasion of plants vs zombies.
Tiffany Barahona Artiga
Monarch House Life Enrichment Director
Tiffany was raised here in Colorado's Denver metro area and has always been in love with the Rocky Mountains. With encouragement and support from her family, she started her career in health care as a Certified Nurse Aide in 2014. She was hired for a long-term care community in 2015, and after a short time, found her place and love in life enrichment. In 2019 she attained her Eden Certification, training in Memories in the Making through the Alzheimer's Association, as well as QMAP certification. She has extensive experience with Dementia and Alzheimer's and can form strong meaningful connections by immersing herself and seeing the world from the point of view the elder is experiencing. Tiffany is married, has a lovely and smart daughter, and two Chows who are a great source of joy for the family. Together, they enjoy hiking, sight-seeing and exploring all the wonderful places Colorado has to offer.
Scot Burkhart
Scot was born and raised in Dayton, Ohio and first came to Colorado in Aug of 1993 to visit a friend. Unknowingly arriving during the World Youth Day events, he was "captured by the beauty, vibrancy and friendliness of Denver." What started as a one-week visit turned into a permanent move. He started in healthcare as an Office Coordinator in 2000 for a local Hospice. In the years since, he's held a variety of administrative and clinical roles in hospitals, as well as skilled nursing & assisted living facilities throughout Colorado. He earned his LPN from the Community College of Denver in 2008 and his Bachelor of Professional Studies in Business & Management from Excelsior College in 2021. Scot has been with his partner David for over 20 years. They enjoy travel, dining out and spending time with their three adult children, extended family and friends.
Angel Ramsey
Environmental Services Director
Angel is originally from Chicago, but grew up all over the southeast coast, eventually settling in Colorado (2005). Her career in senior living began in 2009, where she initially started out as a housekeeper & found her passion for serving seniors. Over the course of her career, she has gained certifications & licenses to work on an array of equipment & systems, as well as providing in-depth training to other community directors on various safety systems & maintenance programs. In 2020, she finalized the adoption of her nephew (and best friend), Ryder. In her spare time, she enjoys spending time with her family & working on home projects.
Tracy Powers
Tracy grew up in Cedar Rapids, Iowa and has lived in 8 states and finally moved to Colorado in 2002. Tracy has been in sales all her life but found her true passion working with seniors in 2010. She loves to build new relationships with the families and residents and they all feel like family to her! Tracy was the 2nd employee at Carillon at Belleview Station and saw all the hard work and determination it takes to open a new community. It was so rewarding to see all the new residents move into our community when the building opened and everyone forming friendships. When Tracy is not at the community, she enjoys playing tennis and pickleball, going to the mountains and spending time with her two amazing grandchildren and a new one on the way in July.
The Ascent Founders are notable for their roll‐up‐your‐sleeves, detailed, and focused approach that is further augmented by creating a familial environment within each senior living community we own and/or operate. We create highly successful and market differentiated communities that we can hang our hats on. We are ambitious; however, we have the discipline and patience to operate within our means.
Tom Finley
Tom Finley is a founding member of Ascent. Prior to Ascent, he held positions with a senior living and development company as a finance and development manager. His professional career in finance and real estate began with Arthur Andersen in their tax consulting practice. He then worked for ProLogis, a large REIT, in various capacities ultimately serving as fund manager for a $2 billion property trust which was publicly traded on the Australian Stock Exchange. He is a member of the Board of Trustees for Havern School, a nationally recognized school serving students with diagnosed learning disabilities since 1967. He holds a Bachelor's Degree in Accounting from the University of Arkansas, and a Master's Degree in Taxation from the University of Denver, and is a certified public accountant (inactive). Mr. Finley is responsible for the strategic direction of the company, its communities, and future growth opportunities. He oversaw over $300 million in completed senior living development and acquisitions for the company over the last several years. He has over 23 years of experience in finance, real estate, and operations.
Susie Finley
Susie Finley is a founding member of Ascent. Her professional career in senior living spans over 24 years. She began her career working in various capacities in day-to-day operations for local and regional senior living operators in the Midwest. Mrs. Finley then joined a large national senior living firm, where she has served as Executive Director for multiple communities in the Denver market. She joined Ascent in her current capacity in 2013. She received a Bachelor of Science in Gerontology from The Ohio State University. She is a licensed Nursing Home Administrator and an Assisted Living Administrator. Mrs. Finley serves on the Board of Trustees for Temple Emanuel & serves on the Assisted Living Advisory Committee for the Colorado Department of Health. Mrs. Finley previously served as a Board Member and the Assisted Living Chair of the Colorado Healthcare Association from 2011 to 2018. She is responsible for the evolution of Ascent's operating model, strategic planning, functional programming, project design, and optimizing ongoing operational performance.
Ready to find out more?
We would love to connect with you!